Reading Time:
4
minutes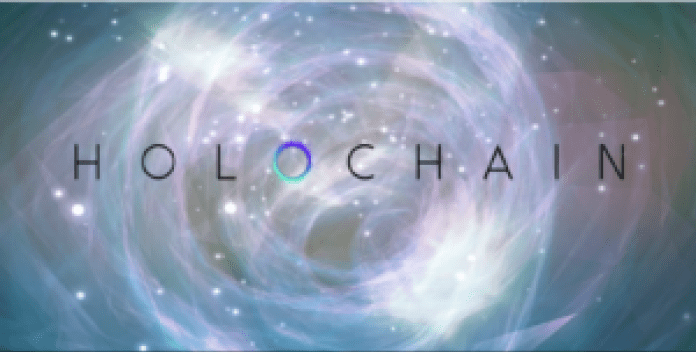 What's Holochain?
Holochain (HOT) it's not a project on the blockchain, but it's an alternative to it, Holochain it's only the surface of a bigger project.
On top of Holochain, there is a project called MetaCurrency, that aims to disrupt the whole financial system, but on top of MetaCurrency there is another bigger project called Ceptr, so Holochain is a small part of a very big project.
HoloChain it's like the "blockchain layer" but isn't really a blockchain, it works differently, it's not made out of blocks but has distributed hash tables, also it's not one huge chain, but lots of small interconnected ones, because "local" nodes don't need to know the global state, so consensus is reached only where needed.
The whole project started even before Bitcoin, HoloChain is in development since 2016.
Summarizing - Holochain provides a data structure that can be used to build decentralized apps. You have your own chain, which you can add data to, including financial transactions.
Partnerships
Third-party projects building on Holochain
Junto - junto.love, a social network.
Producers Token - producerstoken.com, P2P marketplace, marketing platform, and ecosystem to empower agriculturalists.
JustOne Organics - justoneorganics.com, a dehydrated food producer.
WIRD PBC - wirdpbc.xyz, social benefit coin.
Bridgit SPC - bridgit.io, Building the New Search.
ULEX - open source legal system.
Core.Network - core.network, a social network.
Our World - ourworldthegame.com
S7 Foundation/Noomap - noomap.info, a social network.
Holohouse - holohouse.org
Sacred Capital - sacred.capital, a reputation interchange.
Holo Health - Person-Centric Healthcare Ecosystems.
Other hApps on Holochain
Clutter - Distributed "Twitter" clone.
HoloChat - "Slack" alternative with interoperability with other hApps.
Coin Toss - A game that shows how to work with public/private chain entries.
DPKI - Distributed public key for the management of cryptographic keys.
Holodex - Indexing engine for searching DHT.
HCHC - Holochain of Holochains. It's a way for people to publish their Holochain app and install it. (Apple store / Google play).
Mixin Services - Anchors (for linking between DHT), DPKI, Holodex to connect to apps people build.
Trust Graph - reputation ratings on people and business.
HoloVault - a personal identity and persona management application.
Fractal Wiki - a wiki with wikis inside of wikis.
Errand - a kanban style management tool.
Features
The most important three features of HoloChain are:
Low-cost
Lightweight
Secure
Because every application runs its own Holochain, we have cheaper hosting overhead.
When there are more agents using an app, there is also more hosting power, and storage becomes available. The load gets lighter.
Every agent's source chain holds the entire app's "DNA"— the code that runs the app. Its peer validation requirements ensure secure apps. Data cannot be counterfeited, tampered with, or lost. Each app stores its data in a validating DHT creating redundancy of public data across randomized nodes.
When nodes go offline, the DHT is self-healing and rebalances the data to different nodes. And if someone alters their own app code they effectively fork themselves out of the shared DHT space into an entirely different application.
Info, News and ICO Results
At the moment, the price of HoloChain (HOT) is sitting at $0,001135 USD (0,85%) with a market capitalization of $151.155.848 USD and $4.165.175 USD 24H volume.
The circulating supply is 133.214.575.156 HOT and the total supply is 177.619.433.541 HOT.
ICO was live from 03/29/2018 10 a.m. - 04/28/2018 10 a.m.
ICO price was: 1 HOT = 0.0002 USD (0.0000002267 ETH)
During the ICO they've collected $20,400,000 (100%)
ATH price was $0.00194 USD on 5th June 2018 and the market cap ATH was $220.37M USD on the 10th May 2018.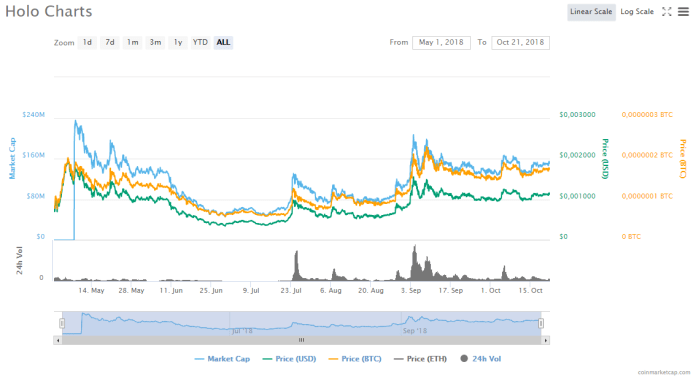 Community Around It:
Twitter: 16.400 Followers;
Facebook: 3.115 Likes;
Reddit: 3.8K Subscribers;
Medium: 1.2K Followers
Regarding recent news, you can have a look at the links below for the last relevant updates:
https://twitter.com/holochain/status/1054048283700662272
https://twitter.com/holochain/status/1053403743029469184
https://twitter.com/H_O_L_O_/status/1053324947567849472
To stay updated: https://twitter.com/holochain
Competitor's comparison
After a deep search on the web and talking with some admins of HoloChain telegram group, I can say that there's not any similar project on the web, other projects (99% of them) are on the blockchain, this project has invented a completely new chain, so it's incomparable with other blockchain projects.
The Team
HoloChain it's an open source project, there are many people working on it around the globe, initially, most of the work was done by the Holo team (https://holo.host/), let's see the most important team members of HoloChain at the moment.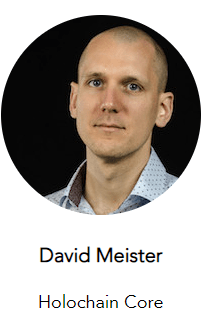 - Owner of Dim Valley and Nice Feature;
- Senior Solutions Architect of Equiem;
- Previously director of Godel;
- Studied at the University of Adelaide;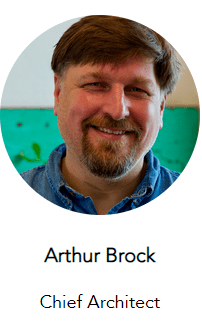 - Distributed App Architect;
- Cryptocurrency Designer;
- Economy Speaker;
- Studied at Michigan State University, Artificial Intelligence.
You can see all the team members and advisory board here:
https://holochain.org/team.html
Considerations About What We Have Seen
This is a very complicated and big project, their vision is absolutely ambitious, they have a strong team behind, some of them are coming from a side project (HOLO), their chain in theory in even more efficient than the blockchain.
Looking at the community I can say that I was expecting a bigger community, this is a Huge project and I have seen smalle, project with a much bigger community and user engagement.
They have a very big total supply, 177 Billion are a huge amount of coins, this is not a good thing for the future price.
About competitors, we were not able to compare this project to another one, at least we can say that they have the MVP ready, you can start to build your own application here: https://developer.holochain.org/ or start to study the HoloChain code installing their library.
Contacts
By Michele Costa