Reading Time:
3
minutes
---
The IOTA Foundation has partnered with Jaguar Land Rover to integrate Smart Wallets into cars. This latest development will see UK residents earn cryptocurrencies for driving the Jaguar Land Rover.
---
Earn Crypto For Driving Jaguar Land Rover
The IOTA Foundation has announced that it is partnering with Jaguar to integrate Smart Wallets into their Land Rover cars. With smart wallets, UK drivers will be able to earn cryptocurrency and make payments for car services.
Using the Smart Wallet technology on the Jaguar Land Rover, owners would earn credits if they automatically allow their cars to report important road condition information including traffic congestions, potholes, and others. The data collected from the drivers would be transmitted to navigation providers or local authorities.
The cryptocurrencies drivers earn in the process can be redeemed for rewards like coffee. They can also be used to automatically pay for tolls, parking fees, and for smart charging electric vehicles.
The partnership between IOTA Foundation and Jaguar Land Rover will see them harness the power of DLTs to both make and receive payments. The payments involved will have no transaction fees, and the transactions are expected to get faster over time.
---
IOTA Launches The IOTA Academy
On April 25, the IOTA Foundation announced that it had opened its first international IOTA academy program. This academy will work closely with the IOT1 Academy, an in-depth tech academy launched by the foundation in Berlin and Shanghai.
The IOTA Academy will be offering a wide range of online training in addition to blended exercises for coders & developers. All courses can be purchased online via the IOTA training platform, and they come with a well-designed digital content.
"Starting on April 26th with the first training access, the "IOTA Onboarding Course for Developers," the app-supported learning training, educates coders who are eager to start developing their applications on IOTA's Tangle," the blog post added.
The participants can choose between the three different course formats made available by the training academy which are; pure digital, blended training, and blended seminar.
---
IOTA Foundation Outreach Expands to The United States
While the IOTA Foundation continues to grow, its reach has been minimal in certain countries. However, they are working to rectify it. A few days ago, the team revealed that it is expanding its outreach to the United States and Canada.
The expansion into North America is led by Mathew Yarger who has now assumed the role of Public Sector Product Owner for the continent. Also, Dan Simerman will serve as the Head of Financial Relations for the North American region.
The two will work together to address the issues in North America while taking guidance from the executive team and the advisors based in the United States.
---
Please Remember
We'd love to hear your views on that, please share your opinion using the comment section below.
Please take also a moment to complete our online survey, it will be just a few minutes for you, but for us, it will mean a lot and will help us to adjust and make better articles for our readers.
Click Here to access the online survey
We are coming out with one daily news every day of the week for our loyal followers, so don't forget to follow us on our social media channels like Twitter, Facebook and Reddit.We also have a Telegram channel where we post our daily articles.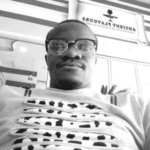 Hassan is a cryptocurrency and stock market writer and enthusiast. The financial world has become his primary interest, with movies and books being some of his favourite pastime activities. He is an investor in many blockchain projects including Bitcoin, Stellar Lumens, Cardano, VeChain, Gifto, and Cindicator. Hassan also writes for important outlets like Blokt.com