Reading Time:
3
minutes
---
The VeChain community is getting ready for its 2019 summit which is slated to start next week, with new speakers at the conference announced ahead of time. The team also announced its partnership with Chinese electronics company, Haier.
---
VeChain Gets Ready for its 2019 Conference
The VeChain community is gearing up towards its 2019 summit that is set to take place in San Francisco on April 18. The conference offers VeChain enthusiasts the opportunity to network with fellow community members.
The event will focus on critical issues such as the fast-growing blockchain sector, and relevant information related to VeChain such as news, products, technology, and innovations. According to the organizers, the 2019 summit is specifically designed to bring together developers, academic professionals, startups, business decision makers and venture capitalists so they can partner to develop solutions that would create valuable transactions on the VeChain network.
VeChain is announcing more speakers at the event. Sergio Mottola, Chairman, CEO, and Director of the Scientific Committee of San Marino Innovation was listed a few hours as one of the speakers at the summit.
---
VeChain Partners With Haier
Earlier this month, Haier, one of the leading electronic and home appliance companies in the world partnered with VeChain and DNV GL, an international accredited registrar and classification society based in Norway for its COSMOPlat brand.
COSMOPlat is an internet clothing platform that would make use of the VeChain Thor blockchain to develop the world's first blockchain-based clothing life cycle management network. The platform called MyStory will allow customers to get detailed information about the clothing products. By scanning a QR code, information such as the product's manufacturing process, the raw materials used, the design, and brand would all be made available to the customer. The role of VeChain is to provide customers complete transparency regarding the products they are buying.
---
Deloitte Uses VeChain Thor Blockchain
VeChain revealed that Deloitte, one of the Big Four of accounting is making use of its blockchain technology. VeChain made this announcement while introducing Parminder Parmar, as a speaker for the upcoming VeChain summit. Parmar is the Senior Blockchain Architect at Deloitte Digital & Blockchain Lab, and he is expected to talk about how Deloitte is using VeChainThor blockchain in its operations.
The announcement caused excitement within the community and led the VeChain enthusiasts to speculate the two companies would announce a partnership at the upcoming summit.
---
VeChain Registers With Chinese National Cyberspace Administration
Late last month, VeChain was listed as one of the companies that have been successfully registered with the Chinese National Cyberspace Administration. The Singapore-based blockchain project was approved alongside 196 other companies.
Sunny Lu, the co-founder of VeChain told Yicai that this latest development is a step forward towards creating a standardized blockchain development and regulatory environment in China. This would allow other companies to develop blockchain-based applications in accordance with the rules and regulations put in place by the government.
---
Some Technical Analysis
On the daily timeframe we can clearly see the price hitting the 0.236 Fibonacci level with a consequent retracement. This level (150/160 Sats) is, therefore, the next resistance to clear before we can see the price moving up towards higher levels.
---
Please Remember
We'd love to hear your views on that, please share your opinion using the comment section below.
Please take also a moment to complete our online survey, it will be just a few minutes for you, but for us, it will mean a lot and will help us to adjust and make better articles for our readers.
Click Here to access the online survey
We are coming out with one daily news every day of the week for our loyal followers, so don't forget to follow us on our social media channels like Twitter, Facebook and Reddit.We also have a Telegram channel where we post our daily articles.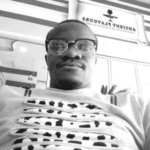 Hassan is a cryptocurrency and stock market writer and enthusiast. The financial world has become his primary interest, with movies and books being some of his favourite pastime activities. He is an investor in many blockchain projects including Bitcoin, Stellar Lumens, Cardano, VeChain, Gifto, and Cindicator. Hassan also writes for important outlets like Blokt.com